°CRYO introduces ELEMIS BIOTEC Facial Treatments
°CRYO announces the launch of ELEMIS BIOTEC facial treatments at °CRYO clinics in Emirates Towers and Abu Dhabi Country Club.
Elemis is an award-winning luxury British skincare brand.
The °CRYO team is specially trained in these revolutionary, non-invasive, anti-ageing treatments brought to you by the much-loved British skincare brand Elemis.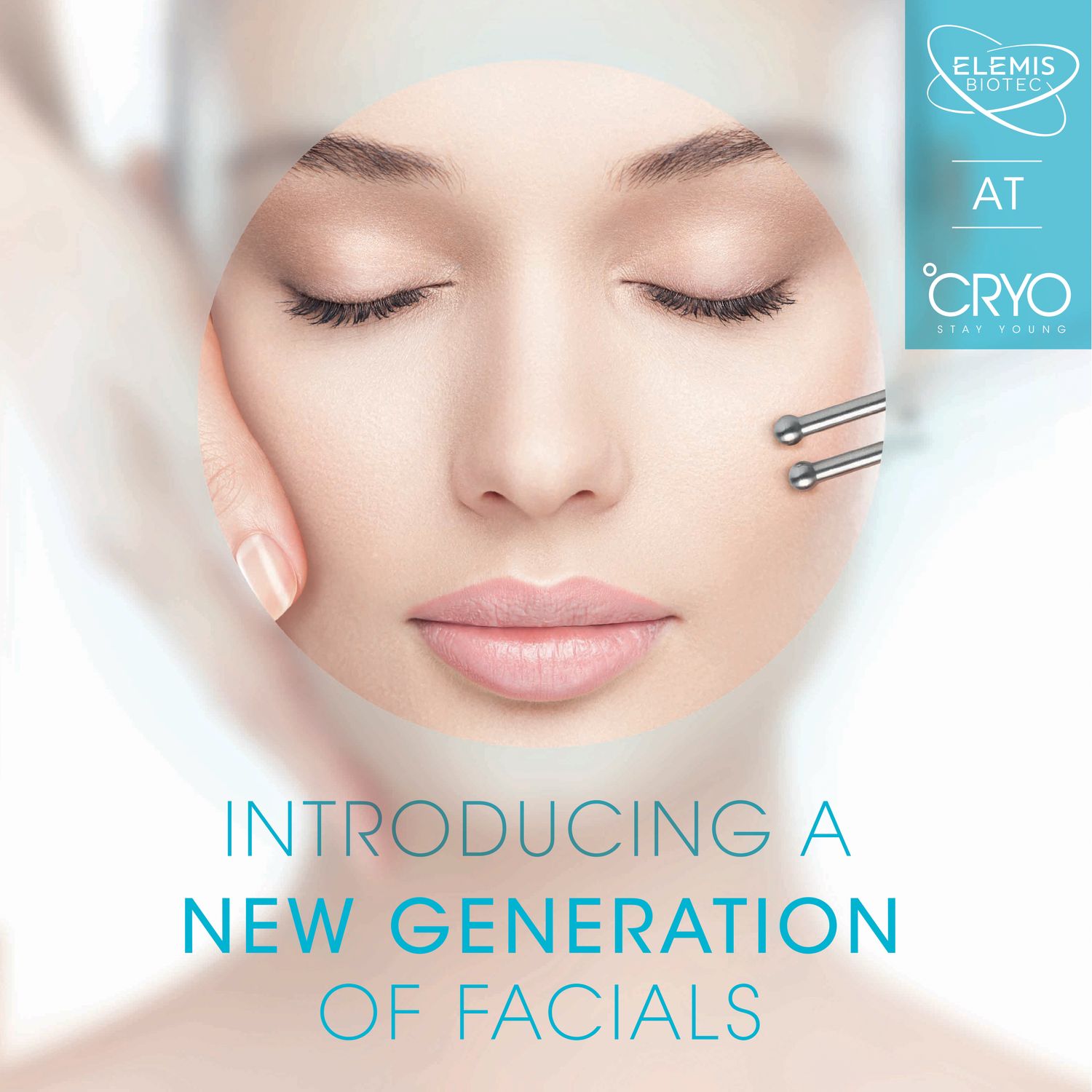 °CRYO at Emirates Towers and Abu Dhabi Country Club house state of the art cryotherapy chambers and now will also be housing premium ELEMIS BIOTEC facial treatments. The services will also be extended to °CRYO franchises globally.
The ELEMIS BIOTEC technology is a 5 in 1 advanced bio-electric technology that works in perfect synergy with the skin's natural bio-electric field. This technology combined with the unique products provide visible results and long term benefits.

Each tool is designed to perform a unique function:
Ultrasonic Peel

Oxygen Infusion

Microcurrent Lift

Light Therapy Rebalance

Galvanic Rejuvenate
With a careful combination of hands-on therapy and state of the art technology, each facial is designed to give customers their own bespoke facial treatment targeting their skin care concerns such as brightening, blemishes, wrinkles, anti-aging and more. These facial treatments will be followed by their signature °CRYO Glow Facial.
The pioneering innovation of the BIOTEC machine, works to switch the skin back on, increasing its natural cellular energy. Technology provides you with clinically proven results – thriving, visibly healthy and energized skin.
The 7 new exciting facials has been launched at °CRYO.
You can now select from:
ELEMIS BIOTEC Line Eraser


A powerfully rejuvenating facial treatment that effectively irons out wrinkles and fills out lines.

ELEMIS BIOTEC Firm-A-Lift


A facial treatment with a ground-breaking blend of massage and sculpting galvanic technology for a contoured complexion that is remarkably lifted.

ELEMIS BIOTEC Anti-Pigment Brightener


An illuminating facial treatment dynamically tackles the appearance of uneven skin tone, discoloration and age spots.

ELEMIS BIOTEC Skin Resurfacer


A facial treatment with ultrasonic peel, massage and light therapy deliver a complexion that has never been smoother.

ELEMIS BIOTEC Blemish Control


A facial treatment with ultrasonic vibration, massage, steam and galvanic currents which thoroughly decongest and exfoliate.

ELEMIS BIOTEC Super-Charger for Men.


The facial treatment to de-stress and de-fatigue the male complexion while activating ultimate skin dynamism.

ELEMIS BIOTEC Sensitive Skin Soother.




An oxygen infusion encourages cellular restoration, while red light therapy and calming anti-oxidants improve the skin's ability to repair itself.
All facial treatments are currently available at °CRYO Emirates Towers and °CRYO Abu Dhabi Country Club.
Recharge your skin now!
Contact for bookings
CRYO Emirates Towers: +971 43 51 8300

CRYO Abu Dhabi Country Club: +971 26 67 7736

Email: [email protected]

Website: www.cryo.com
Facebook: CRYO Health
Instagram: @cryo