Introducing New °CRYO Point System & Packages at UAE Branches!
This summer we are happy to introduce the launch of °CRYO Points which will enable you to get the best value for each and every service. We will still offer the same variety of treatments based on performance, recovery, beauty, slimming, and general wellness.
However, the duration and enhancements of the service will depend on the amount of time you would like to spend at °CRYO Stay Young UAE centers.
We now offer you 2 unique experiences: Deluxe and Express
˚CRYO Deluxe treatments relax and rejuvenate the mind and body by offering a memorable experience that you will crave long after it is over. Every °CRYO Deluxe treatment includes benefit boosting enhancements that focus on removing everyday stress while increasing energy levels to ensure you leave our center feeling reinvigorated.
Perfect for: Clients who want to enjoy additional enhancements to the treatments
Enhancements: Music & Drink Selection | Herbal Tea | Extra Muscle Recovery | Aromatherapy | Facial Skin Analysis | Stress & Energy Analysis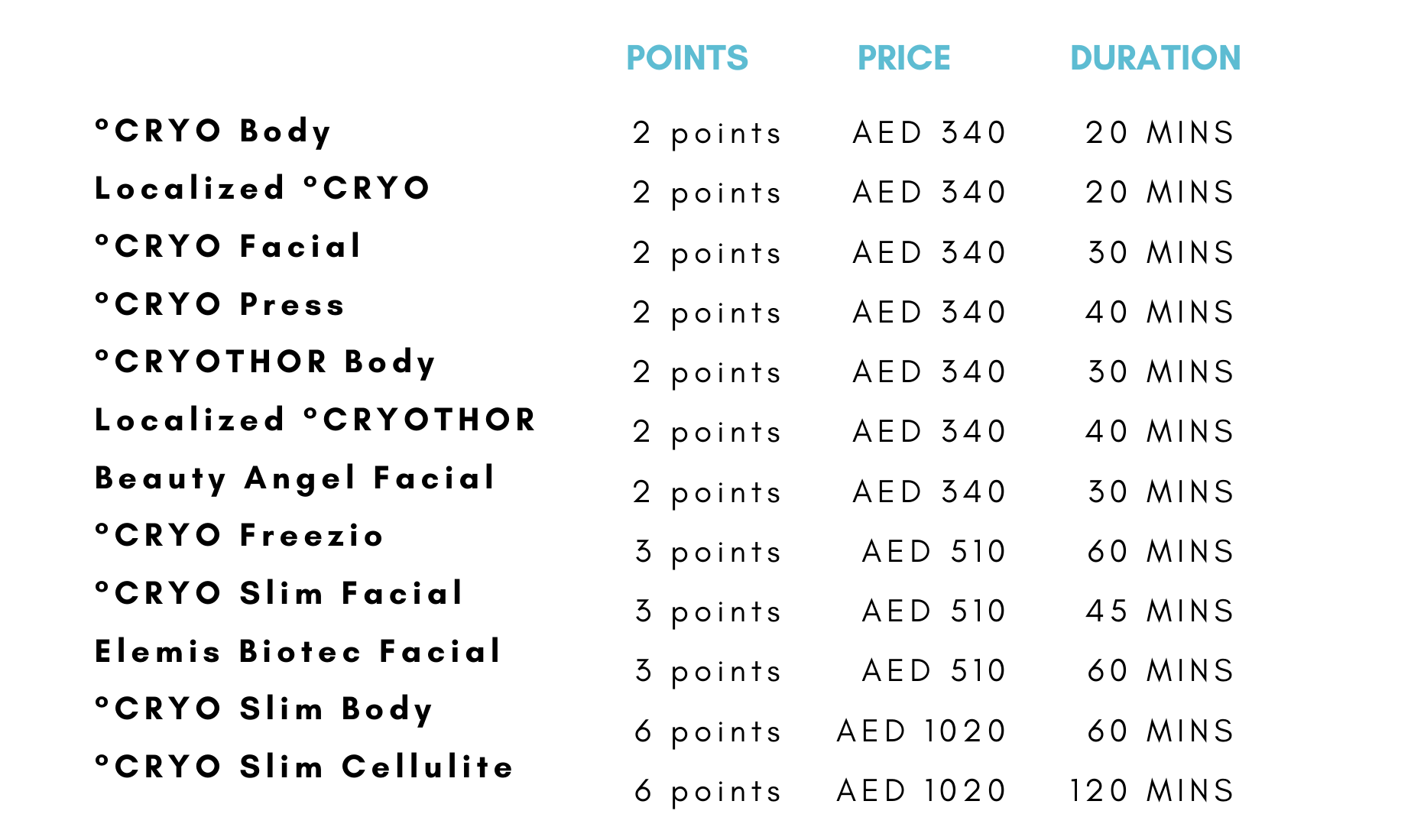 We understand your time is valuable, which is why we offer a range of ˚CRYO Express treatments. These affordable sessions leave you feeling refreshed in under thirty minutes from arrival to departure of the center.
Perfect for: Clients with tight schedules
Enhancements: Music & Drink Selection | Collagen/ Vitamin Shot


Enrich your experience with one of our °CRYO Packages designed to give you the most out of your visits. Each package includes a complimentary consultation and customized program designed by our specialized therapists with your unique objectives and long-term goals in mind.
Points can be used towards °CRYO Express & °CRYO Deluxe treatments
The more points you buy, the more money you save
All packages include special offers from our corporate partners
Validity extensions for 1 or 2 months are available at an additional charge


To book an appointment: https://www.cryo.com/book-an-appointment/
Dubai Branch: Jumeirah Emirates Towers
Landline: +971 4 351 8300
WhatsApp: +971 56 724 0608
Opening Hours:
Sat to Thur: 8:00 AM – 10:00 PM
Friday: 11:00 AM – 10:00 PM
Maps
https://goo.gl/maps/FQe8QAWoYzw
Abu Dhabi Branch: Abu Dhabi Country Club
Landline: +971 2 667 7736
WhatsApp: +971 50 404 1022
Opening Hours:
Sat to Thur: 10:00 AM – 10:00 PM
Friday: 11:00 AM – 10:00 PM
Maps
https://goo.gl/maps/J4geZJzrxEo