What is cryotherapy?
Cryotherapy is an innovative treatment based on the localized or full body use of intense cold to reduce the surface temperature of the body to 4 °C. This drop boosts blood circulation, which in turn results in a higher metabolic and caloric burn rate. The increased circulation of healthy nutrients in the body stimulates various health benefits in the areas of performance, recovery, wellness, beauty, and slimming.
What is a °CRYO Chamber?
A °CRYO Chamber is a technologically advanced unit that is used for whole-body cryotherapy sessions. Once you step into a °CRYO Chamber, your body is enveloped with cryogenically cooled air with temperatures reaching as low as -140°C for a maximum period of three minutes. Different variables in the chamber are adjustable to ensure a comfortable experience.
Is cryotherapy dangerous?
Cryotherapy treatments are not dangerous as the liquid nitrogen that is used as a chilling agent does not come in contact with your skin. A trained operator is always present during the treatment to control the temperature levels and monitor your comfort.
Are there any reasons why I shouldn't do a cryotherapy session?
Most people can do a cryotherapy session. The people who cannot are anyone who: (1) has unmanaged hypertension or a pacemaker, (2) has a history of or is being treated for cancer (3) has deep vein thrombosis, (4) has a cold allergy or (5) is pregnant. If you have questions about whether you face any risk, you should first ask your healthcare provider before booking a session.
Is it comfortable?
Yes! °CRYO treatments are comfortable. Describing the feeling of a °CRYO Chamber treatment is like standing naked in front of a freezer on a hot day.
How long does a session last?
It varies. Most of our treatments last for three minutes. However, some of our facial and other treatments can last up to 60 minutes depending on your requirements. Please refer to individual service pages to find out how long your desired treatment will last.
I'm claustrophobic. Can I still use the °CRYO chamber?
Absolutely. Our °CRYO Chambers have the option to keep your head above the cold air and maintain visibility with the outside. The °CRYO Chamber is also equipped with a door that is closed but not locked, so you are always in control while in the chamber.
What do I wear during my treatment?
You will be in your underwear or we will provide disposable ones if requested. Women can wear bras as well. We will also supply mittens, socks and foot protection to protect your extremities from the cold.
Do I shower before or after my treatment?
There is no showering involved with cryotherapy. Our treatments are completely dry.
How soon after my treatment can I expect results?
It depends on the results you are trying to achieve. We generally recommend 2-3 treatments per week to see results. °CRYO Stay Young cannot guarantee that any of our clients will see specific results. However, we can tell you that you'll feel great right away after completing your first treatment. Our clients usually experience a rush of endorphins, the body's natural mood elevator, following a session. This lift can last for several hours. Depending on your physical condition, you may feel immediate relief from joint and muscle pain, improved energy, and increased flexibility that can last for several hours or even days. Of course, results will vary based on the individual.
Is one °CRYO treatment enough?
While every °CRYO session is beneficial, we recommend clients book a package to receive maximum benefits. As a maintenance program, we suggest that the series be repeated every three months. Professional athletes will often have between 4-6 sessions per week to help achieve peak performance during intense training periods.
Are there limitations to consider before a treatment?
Cryotherapy cannot be carried out on people with unmanaged hypertension or a pacemaker, people who have undergone or are undergoing cancer treatment, people with deep vein thrombosis, people who have a cold allergy, or on pregnant women.
Please wait for 24 hours after the recent use of a tanning bed, sunbathing, or application of a local anesthetic.
Cryotherapy cannot be carried out within two weeks of cupping (Hijama).
Cryotherapy cannot be carried out within one month of a new tattoo, new piercing, slimming, liposuction, silicone implants, Botox, or fillers.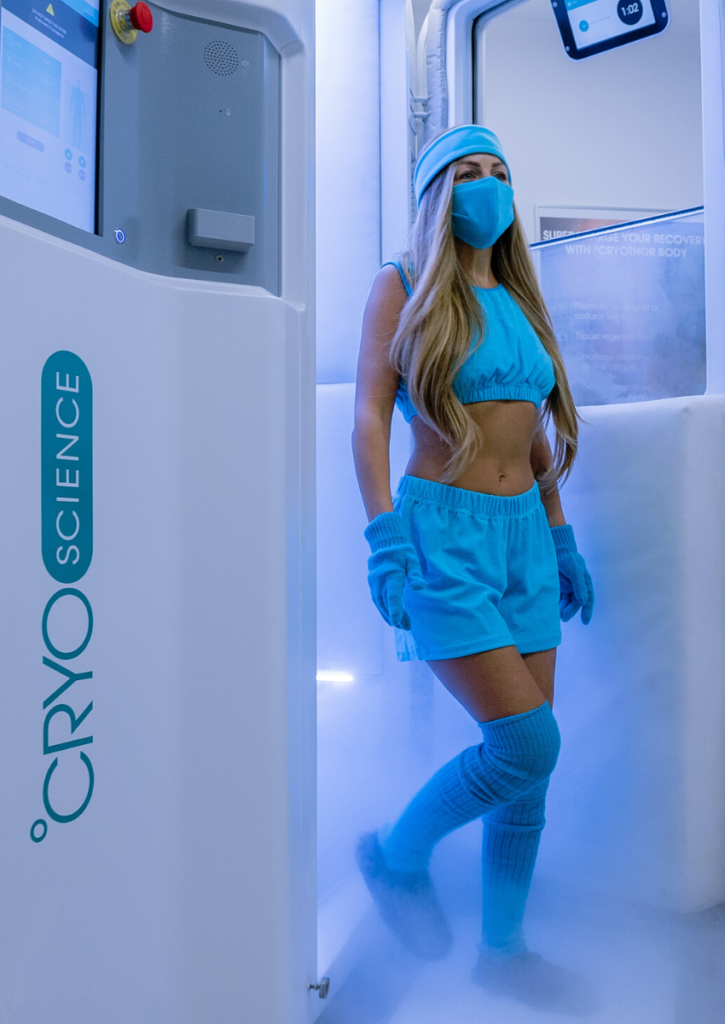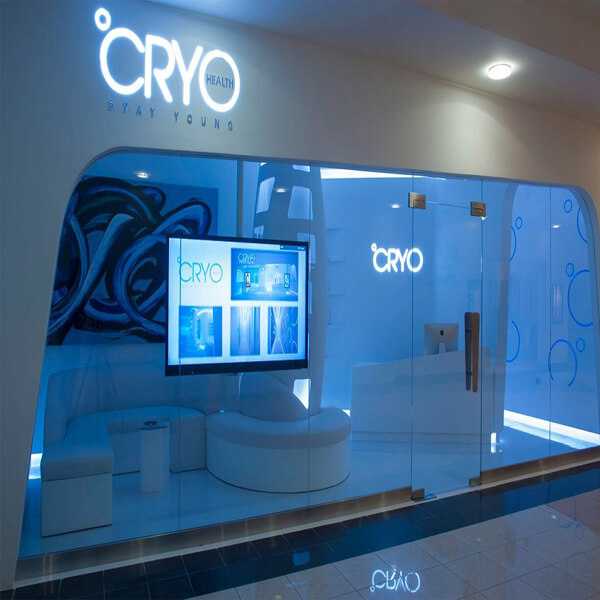 Can I bring a guest to the °CRYO centers?
Doing cryotherapy with a friend is more fun and helps keep you motivated. However, all guests must book for services in advance as we have limited rooms available. If he or she is simply accompanying you to watch, then it is completely alright as long as you are comfortable.
What are the centers' opening hours?
Can my children wait for me in the waiting room?
°CRYO Stay Young is an adult only facility.
What happens if I lose something at the center?
Let reception know as soon as possible so we can check if someone has handed it in. While we will always support you in looking for lost items, please remember that your belongings are always your responsibility.
What should I do if a fire alarm sounds?
Don't panic. Our fully trained team will tell you what to do and guide you to safety. From time to time, we will run tests and our team will notify you in advance in such cases.
Are team members trained in first aid?
Yes, we always have a number of first aiders on duty with a fully equipped first aid box located at the reception.
What are the safety and security measures in place at the club?
°CRYO Stay Young holds the personal safety of its members and staff in the highest regard. To reinforce and strengthen safety measures across our centers, we take the following measures:
CCTV cameras are installed in all public areas.
Each client is required to fill in the disclaimer form prior to the session so that we can check for contraindications.
Our team members are trained professionals with medical backgrounds.
A therapist will always be with you throughout the visit to guide you and ensure your comfort.
We maintain the highest hygiene standards by cleaning our facilities 3 times per day, and disinfecting rooms and machines before and after each session.
All equipment goes under quarterly preventative maintenance by our cryogenic engineering department.
Every quarter, we carry out pest control, general maintenance of the air conditioning system, and testing of the fire alarm system.
Where can I park?
Dubai
You can avail free parking – in Emirates Towers (2h in basement parking or Valet parking at the Boulevard entrance)
Abu Dhabi
You can park next to the location outside parking.